Welcome to CitruSolution Carpet Cleaning of Buford, GA!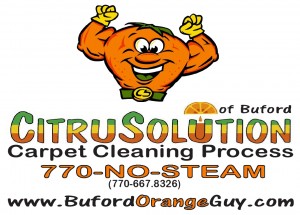 CitruSolution Carpet Cleaning of Buford offers both residential & commercial carpet, rug and upholstery cleaning in Buford, Georgia. We specialize in pet "problems," both visual and odor.
Our unique process begins with a complete pre-spray of your entire carpet. If you have heavily soiled areas, darker areas or other types of discolored areas on the carpet we will use more of our exclusive cleaner on those areas. We will use more, but we do not charge more. Once everything has been pre-treated we use a heavy rotary machine with a brush and "dirt-napper" bonnet  and will use it on all the areas that have been pre-treated. Then we finish up with a dry vacuum, so our process is a VERY LOW MOISTURE process, so it dries in about an hour. We classify it as a "dry cleaning, fluid process." It is simply a more effective, healthier way to clean carpet than the traditional form of carpet cleaning.
Our citrus based solvent cleaner  is NOT SOAPY nor FOAMY, so it does not leave a soapy, sticky reside on your carpet. Our proprietary carpet cleaner is made right here in Georgia, and works very well on all types of carpet. Many of the "problems" we run into in our clients' homes are black, or dark areas that are usually sticky areas that became sticky from a soapy residue left behind from a carpet spot cleaner. If you have a carpet spot cleaner, go get it and shake it up. If you see it, hear it, or feel it foam up, it is soapy and will leave a STICKY residue behind causing that area to resoil. Click here to see a short (30 sec) video quickly explaining our process.
We leave all of our clients with a big 32 oz bottle, with FREE REFILLS, of our exclusive carpet spot cleaner so they will have something that works, and does not cause all the common problems we run into. Plus it makes our job easier the next time we clean their carpet as there is less and less soap in the carpet. The more and more soap that you can get out of carpet the longer, and longer it will stay clean. That's one of the reasons we say CitruSolution Cleans Better, Dries Faster, Stays Cleaner LONGER, and It Smells Great!
The general idea behind taking clothes to the dry cleaners is to avoid the damage caused by all the soap and water, mostly the soap, to clothes. Our process works much the same way.
If you need a professional carpet cleaner in the Buford area we hope CitruSolution Carpet Cleaning of Buford is YOUR CHOICE!
Please call today 770-NO-STEAM (770.667.8326) we would love to be your next and LAST carpet cleaner.
We do not give estimates. We give EXACT-imates! Because we do not charge extra for spots, heavily soiled ares, discolored areas etc. there are no hidden fees or charges, EVER!! There is no trip charge, no fuel charge, no hidden fees of any kind.
If you have any questions please don't hesitate to contact us via email or phone.
CitruSolution Carpet Cleaning Buford
www.BufordOrangeGuy.com
770-NO-STEAM
(770.667.8326)