The Big Orange Guy!
Do you have an upcoming event or gathering that you would like to add some FLAIR, COLOR
and make a great impression? The Big Orange Guy is just that! Everyone remembers and loves "mascots"
even if they aren't sure what kind of mascot it is or what it is the mascot represents.
Adults and kids alike are drawn to mascots. Children see a "real life cartoon character" while adults
are just plain curious because they stand out and are so "attention getting." Curiosity is simply
something that we all have and often times can't control. It usually gets the best of us.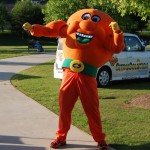 (BOOM, BOOM – CITRUS POWER)
At any rate, CitruSolution Carpet Cleaning Suwanee, Buford & Sugar Hill's Big Orange Guy is available
at NO CHARGE to attend you function whether it is a fund raiser, banquet, party, social gathering,
game, tournament, grand opening, or any type of event you can think of. Any type of event where
you want to draw attention of gain notoriety. The Big Orange Guy is a GREAT way to do it!
The Big Orange Guy can pass out flyers, products, samples or just walk around BRIGHTENING up
the event. He warm, inviting, happy smile is usually very contagious and sometimes goes viral!
Availability is limited, so the quicker you book your event, the better the chance at scheduling The Big Orange Guy
at your next event. All you have to do is call CitruSolution Carpet Cleaning of Suwanee, Buford and Sugar Hill at
770-NO-STEAM (770.667-8326) or you can send an email to JRMitchell@SuwaneeOrangeGuy.com to discuss
the details of your next event and the The Big Orange Guy can enhance your next function.
Thank you for your support!
J.R. Mitchell, Owner
CitruSolution Carpet Cleaning of Suwanee, Buford & Sugar Hill
Residential & Commercial Carpet, Rug & Upholstery Cleaning
770-NO-STEAM (770.667.8326)
www.SuwaneeOrangeGuy.com