That's right CitruSolution Carpet Cleaning of Suwanee, Buford & Sugar Hill is providing a FREE $15 Hot Wax Wash at the NEW Ultra Car Wash at 3121 Lawrenceville-Suwanee Road, next to BodyPlex and Office Depot.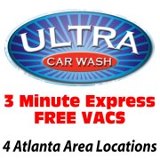 Spring is right around the corner and the perfect time to have the carpet, rugs and upholstery professionally cleaned. And while you are Spring Cleaning your home how about a free car wash?
In addition to cleaning your bathrooms, closets (if they are in an area being cleaned) and a FREE HALL (if you do 5 or more areas) cleaned at no charge we will also get two FREE CAR WASHS at Ultra Car Wash in Suwanee. If you do not have a least 5 areas to clean CitruSolution Carpet Cleaning will still give you a BIG 32 oz. bottle of our exclusive Carpet Spot Cleaner that comes with FREE REFILLS FOR LIFE (as long as you have us out at least once a year) PLUS you will get one free car wash!
This is a GREAT deal just in time for spring!
Call CitruSolution Carpet Cleaning NOW, and be sure and ask for the FREE CARPET SPOT CLEANER and the FREE CAR WASH!
770-NO-STEAM (770.667.8326)
CitruSolution Carpet Cleaning of Suwanee, Buford, Sugar Hill & Dacula
www.SuwaneeOrangeGuy.com