Got Pet Spots?
We also treat pet odor in carpet at no charge! Most of our clients that own pets do not have an odor problem. Some of our clients only have an odor problem when it is humid. Either way CitruSolution treats pet odor for FREE!
As you can see from the many, many pee spots, this client has a dog that uses the dining room as a "potty pad." Most carpet cleaning services charge EXTRA for spots. CitruSolution Carpet Cleaning of Suwanee doe NOT. Our belief is you have called to have your carpet cleaned, you shouldn't be charged extra if there are spots. And as we all know a lot of four legged family members don't always "go" where they we want them to go.
CitruSolution's professional carpet cleaning services also provides all of our clients with FREE CARPET SPOT CLEANER! Our exclusive NON-SOAPY, NON-FOAMING cleaner is great for all kinds of carpet "accidents," but especially PET ACCIDENTS. Most all carpet cleaning products are soapy/foamy which leave a sticky residue on the carpet causing brown or black spots to "appear." As you can see in the picture below, there are A LOT of spots on the carpet, and if you see the perfectly round spots, those are from a machine you've probably heard of, a Spot Bot. We tell people all the time, "If you think soap and shampoo is good for your carpet, the next time you shampoo your hair, DON'T RINSE and see how well that works."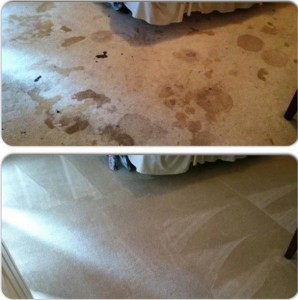 Call CitruSolution TODAY!
770.652.0630