Read the FINE PRINT, then READ IT AGAIN!
Today, I wanted to quickly outline the differences between CitruSolution's business ethics (with regards to our pricing), compared to other carpet cleaning/care companies.
I was inspired to write this post from an ad I saw in the local "community coupon" book. As usual, these ads feature big lettering, and LOW prices… so low they seem too good to be true, and guess what? They are.
Click the picture below, I've highlighted the typical 'bait and switch' language in red.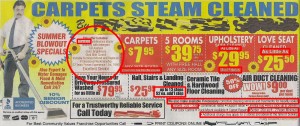 Upon closer examination, you can see these ads contain blatant and misleading language. Much of which in such fine print, many people simply cannot read it, especially the elderly. To begin with, everything in the ad is contingent on the "THIS OFFER INCLUDES" section. Ensure you read this section very carefully. Often these are the bare minimum services these companies offer, and do not include any type of odor mitigation, disinfectant, or fast drying services.
Next I'd like to draw your attention to the "Hall, Stairs and Landing" section. Notice that it only includes 13 steps, and there is a charge of $2 per additional step. Also, note the last line in the bottom right of the picture. "Additional charges may apply for 2 stories and above at the time of booking". This fee (who's price is NOT listed) would also be added to the stairs if there were more than 13 steps.
Finally, I'd invite you to examine the full section in the lower right hand corner of the ad. The ambiguous and tell-tale statement about "treatments for heavily soiled areas" is really where they GET YOU. A carpet cleaning technician can arbitrarily decide that certain areas are more heavily soiled, as there is simply no established guideline for 'soiling'. This could raise your bill exponentially! When you thought you were getting a great deal for 5 rooms, at $40 dollars, your bill is now above $200 because you failed to mention the rooms were upstairs, were Berber carpet, and were heavily soiled. This is how they get you.
At CitruSolution, our FLAT RATE pricing ensures that you know exactly how much you'll be paying, even over the phone, and the price includes everything we do. We will NEVER bait and switch you, and we will never add additional fees to the price of your cleaning.
Until next time, take care, and stay fresh and clean!
Thank you for your support!
J.R. Mitchell, Owner
CitruSolution Carpet Cleaning
770.652.0630
www.SuwaneeOrangeGuy.com
NO UP-SELLS, NO ADD ONS!
Previous website was www.TheBigOrangeGuy.com